Looking for pet friendly hotels in Portland? Well, Kimpton RiverPlace simply goes wild for pets. At Kimpton hotels, every guest, be they on two legs or four, is greeted with open arms and cozy accommodations. So bring your best friend along! Doesn't matter if your extra family member is furry, feathery or scaly. It's okay by us, and there is no extra charge -- no matter their size, weight or breed. We not only allow dogs, cats, and other pets at our hotels, we welcome them. You'll never see extra cleaning charges or pet deposits at a Kimpton hotel.
We don't impose restrictions on the size or the number of pets you can bring along, so your Great Dane can stretch out as much as your kitten. We don't choose sides, we're just as proud to be a dog-friendly hotel as we are to be a cat-friendly hotel. Whether you're planning a short visit or an extended stay, rest assured that our hotel is not just pet-friendly, but pet-celebrated. Here, every day is an opportunity to create joyful memories with your beloved companions by your side.
Our pet-friendly hotel in Portland welcomes your pet with:
A pet bed, food, water bowls, treats and mats in your guest room
Door hangers to alert other guests and staff that your pet is in the room
Courtesy bags for walking your dog
No additional charge for pets, no deposit required
No size, weight, or breed restrictions
Nightly hosted wine reception — pets are welcome to join the party!
We've partnered with Wag! Enjoy complimentary access during your stay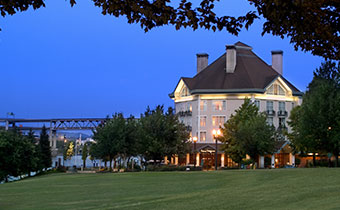 Dog Parks
When Fido wants to play fetch, head to these paws-itively playful parks for dogs (or just step outside our front doorstep):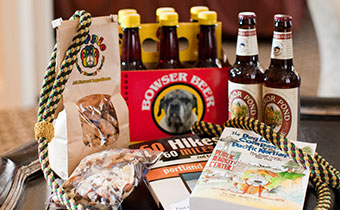 Boutique Pet Shops
You want only the best for your prized pet, and these adorable boutiques offer just that:
For Paws
3029 SE Division St.
For Paws, a locally owned shop on Division Street, pleases two-legged and four-legged visitors with great customer service and unique products.
Mud Bay
1616 NW Glisan St.
This Pacific Northwest chain of pet stores is all about healthy food, fun toys, and the right supplements to help dogs and cats thrive.
Urban Fauna
939 SW 10th Ave.
A doggy daycare, grooming spot, and store in one, this one-stop shop has everything from crystal-emblazoned collars to organic treats.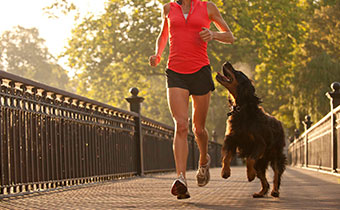 See Spot Run
Get some exercise on the road along these dog-friendly walking and running trails — just make sure your pup's on a leash:
Tom McCall Waterfront Park
Starting just outside our front door, the paved Waterfront Park Trail runs along the scenic Willamette River.
Forest Park
As one of the largest urban forests in the country, Forest Park has more than 80 miles of trails for hiking and marveling at nature.
Crystal Springs Rhododendron Garden
For a peaceful and pretty walk, visit this spot near Reed College known for its stunning foliage, particularly in springtime.